Meet Danielle Cross, Sydney artist and #womenwelove

Danni is a mother of two girls, wife to Ryan, artist and firecracker of a woman. We've admired her works for many years now and so we were thrilled to be welcomed into her beautiful Caringbah home in Southern Sydney recently, to discuss art, interiors, and admire her stunning Sydney home.
Please introduce yourself and tell us where we are today…
I am Danielle Cross or DANIELLEX. Today ECOYA came to visit my home in Caringbah South, in Southern Sydney.

What do you do with yourself?

Probably best known for my abstract water photography and more recently the art collection "Provocateur". A collection of art photography that pushes the boundaries! I am an artist that uses a camera instead of a paintbrush.

We LOVE your work, was this always your career path / passion?

I studied and worked in the interior design industry but always painted and stayed in touch with my artistic side. A few interstate and overseas moves and two children later, I fell back into my art in a sliding doors moment that saw this creative path lead to where I am today.
Do you have a favourite of your own (work)?
Now that is definitely a hard one to answer. I would probably still go back to "
We are Indigos
". This photography artwork came to life at a turbulent time. I created the artwork for only myself and for our home. A beautiful friend passed away around this time and it left me unable to pick up a paintbrush. This is when the freedom and protection of the camera lens allowed me to explore and push my creative process. This artwork grounds me through the water subject matter, creates feeling through the movement and energizes me through its colour palette. It speaks to me and creates an emotive connection. The true artist mission.
How would you describe your interior style?

It is eclectic, light and ordered. Interior Spaces carry in it the energies of those who share it. My style is about all the details that have a storytelling element. And this all starts from the artwork that is chosen. I work back from there.
If you had one ECOYA fragrance to fill your home with, what would it be?
Cedarwood and leather
. I love the masculine. It is the layers and depth of the scent that transport me.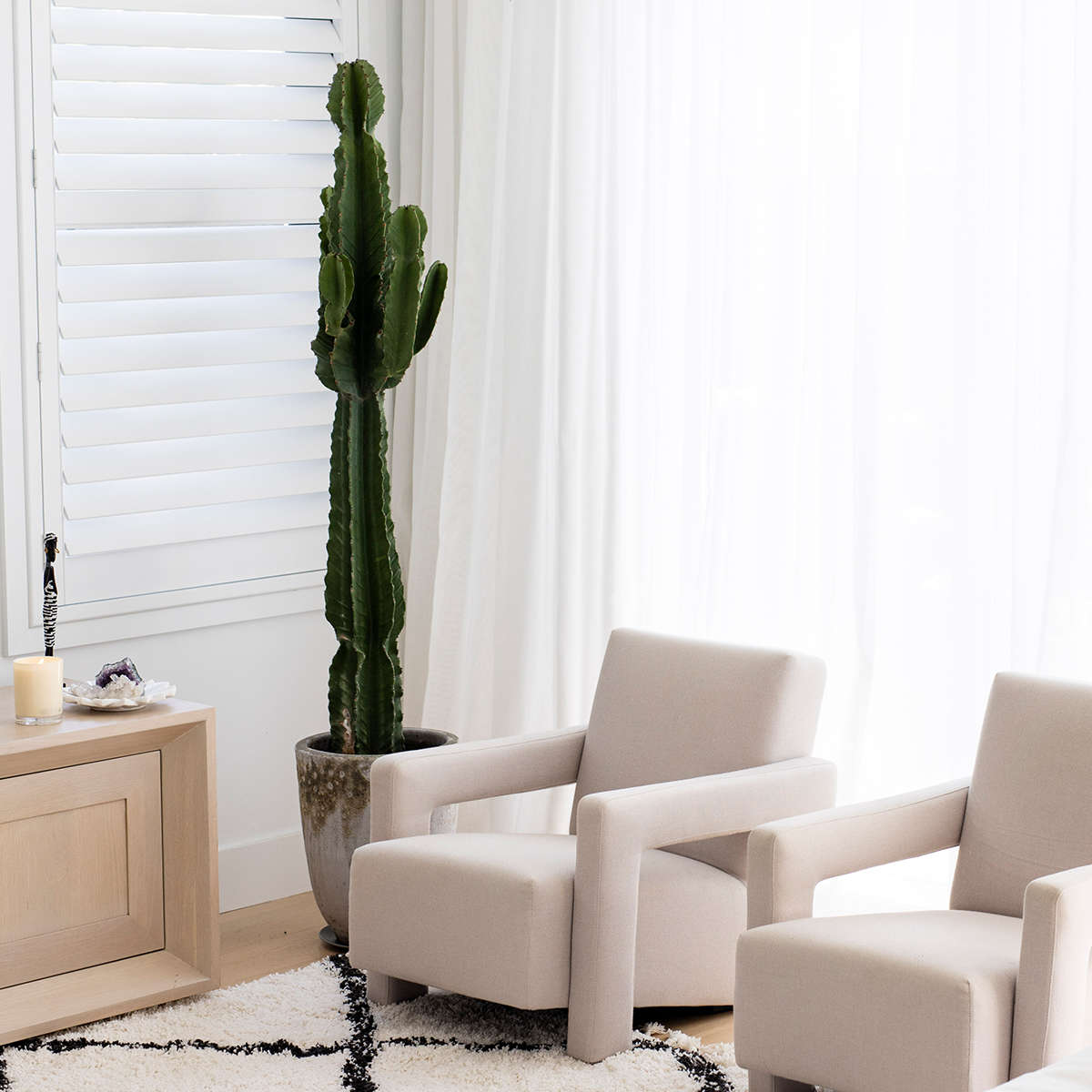 What's your favourite room in your home / office space (wherever we are specifically shooting) and why?
The main living space. The light that floods in, the contemporary high ceiling, and airy feeling that the space evokes. It was the selling point that sold it to me when we purchased a few years back. The summer air when all the doors are open and amazing colours of a sunset sky. The furniture and aesthetic elements are all light and inviting. And when it comes to the art, big is better. I have two 2m pieces that play with scale and grandeur. They both tell a story and have a depth to them, probably best sums me up!

Are you a collector of any specific homewares (what are they) and what inspires you about those items – ie 'collect vases, art, cushions etc etc'?

It would have to be art. Brian Crippe is my favourite and 'Carpe Diem' oversized artwork features above the dining table. Also, for nostalgia, Elephants. Metal elephants. It was a subject matter I painted in childhood and for my major works in the HSC. It is there grandeur and mystical origins that has always inspired and intrigued me Oh and chairs, I have serious buying problem with occasional chairs.
What would be your one home / interior indulgence, if money was no object?

A home studio with high ceilings, linen drapes and lots of light overlooking the ocean. All senses!